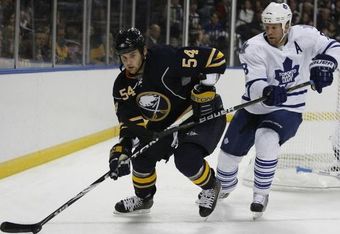 Heading into this season the Buffalo Sabres organizational depth was much ballyhooed and the players and fans alike had high expectations for this club. Through roughly one quarter of the season they sit at 13-9-1 and have played about as inconsistently as you could ever imagine. Despite their hot and cold streaks they are above .500 and off to a far better start than last season, which saw them needing to play .650 hockey over the final weeks of the season just to squeak into the playoffs.
The injury bug has bitten this team hard over the past few weeks with key cogs like Ryan Miller, Tyler Myers, Brad Boyes, Tyler Ennis, Drew Stafford, Robyn Regehr, and Patrick Kaleta all missing various amounts of time.
These are the times when this organizations depth is put to the test, and so far they are passing with flying colors.
First and foremost, prior to last season's coming out party by Jhonas Enroth, there hasn't been a time since Martin Biron was traded in which Sabres fans wouldn't run screaming in horror at the prospect of Ryan Miller missing extended time due to injury. Truthfully it was Enroth's heroic late season run that saw the Sabres safely into the post-season last year, and early on this year, it is his steady play keeping this team afloat while Miller recovers from head and neck injuries relating to the Milan Lucic incident. Jhonas isn't flashy but he has quick lateral movement and a quick glove showing why he was the highest ranked european goaltender in the 2006 entry draft.
Up front the Sabres have been decimated by injuries from the get go. Just seven games into the schedule Tyler Ennis went down with an ankle injury, and since then it has been a parade to the trainers room for Buffalo forwards. However Matt Ellis has continued to play well in a bottom six role for the Sabres and the kids from Rochester have been very impressive. Corey Tropp has been pressed into duty for 10 NHL contests thus far, and he has answered the bell tallying 2 points, 6 PIM, and making his physical presence felt on nearly every shift. Paul Szczechura and Zack Kassian have also seen time with the big club this past week, with Kassian leaving quite the impression with the coaches and fans. Kassian has 2 points in 2 games and is also a +2. He hits everything in sight and could be the power forward the Sabres are truly missing. As the wounded Sabres continue to return to action it will be tough for Lindy Ruff to send Zack back down to Rochester. It might be the right move for the time being, but we haven't seen the last of Zack.
On the back-end the Sabres have already dressed 9 defensemen through 23 games. After injuries to Tyler Myers and Mike Weber, young blueliners Brayden McNabb and TJ Brennan have been summoned to don the blue and gold. Brennan filled in admirably giving the Sabres brass confidence that he will be a full time contributor in the future. McNabb remains with the club while Weber and Myers heal, and thus far he is making the most of his NHL ice time. McNabb is 6 foot 4 and 205 pounds of nasty. He doesn't allow players a free pass in the corners, and he has the hands and vision to get pucks up the ice and contribute at both ends. Like Zack Kassian he may still need a bit more seasoning down in Rochester, but expect to see McNabb in an NHL rink near you in the very near future.
Jochen Hecht, Drew Stafford, and Robyn Regehr have all ready returned to action for the Sabres, with Tyler Ennis and Patrick Kaleta very close to jumping back into the fray. Soon the Matt Ellis's and the Brayden McNabb's of the world will be sent to the press box or the AHL but you have to give credit to Darcy Regier and company for filling this team's talent cupboard enough to withstand a rash of injuries and keep this team in the hunt. The Eastern Conference is so tightly contested that a simple swoon during November can be enough to cost you a playoff spot come April. Thanks to the organization depth, that's not going to happen.
Brandon Hess
Follow me on twitter @SabreHess