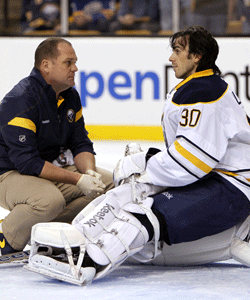 The Buffalo Sabres sugar daddy, owner Terry Pegula, called the team's injuries a "plague" in an interview with WGR's Mike Schopp on 1/13/12. Though there is much truth to the notion that the Sabres have been hit hard with injuries, and that those injuries are affecting the on ice performance, most fans and media members alike felt as though Terry Pegula was making an excuse for his under performing franchise.
The Sabres have had 8 of their nightly starters sidelined for more than 10 games, including Tyler Myers, Christian Ehrhoff, Tyler Ennis, Nathan Gerbe, Brad Boyes, Ville Leino, Jochen Hecht, and goaltender Ryan Miller.
Additionally, impressive call ups from Rochester had been dropping like flies as well, including defensemen Brayden McNabb, and gritty forward Corey Tropp.
Injuries may or may not have been directly responsible for the atrocious play of this Buffalo team, but either way that excuse ends tonight. Heading into Montreal this evening, all but one of the aforementioned players have returned to the Buffalo line up.
Tyler Ennis will return tonight, and Jochen Hecht will be the only Sabres starter out of the lineup as he is recovering from his second concussion in ten months.
AHL forward Corey Tropp is back in action in Rochester, Brayden McNabb will be back by the end of the week, and will likely be donning blue and gold.
Buffalo can no longer lean on injuries as a crutch for their uninspired play. They are a pretty healthy bunch, and coming off the All-Star break they should be well rested.
They will look to win consecutive games tonight after beating the NJ Devils last tuesday, for the first time since November 11, 2011.
This will be put up or shut up time for Lindy Ruff and his crew. Players who respond well to the first half adversity and come back strong these next few weeks will likely be here after the February 27th deadline. Those who continue to struggle and fail to produce will be shipped out of town.
The puck drops in the Bell Centre at 7:30 pm EST tonight and it'll be interesting to see which Sabres team shows up. The one that was brimming with confidence taking both games in Europe to start the season, or the one that has been struggling to score and playing lackluster hockey the last 10 weeks. If the latter team shows up that will be very telling about the players on this roster, because now that they are healthy there are no more excuses.
Brandon Hess
Follow me on twitter @SabreHess